A deep dive in the practices of yoga asana, pranayama, mantra, and meditation. 
200-Hour Denver Yoga Teacher Training
FALL / WINTER 2023
Want to grow deeper roots?
Enrich your life & yogic practice at a small, spiritually-oriented community studio. This is a live in-studio training with 10 - 15 hours being held online (zoom).
DATES
CURRICULUM
SKILLS
PRICING
PRICE INCLUDES...
DATES
September 8 – December 9
TT meets Tuesday evenings (6pm-9pm): 9/12, 9/19, 9/26, 10/3, 10/10, 10/17, 10/24, 10/31, 11/7, 11/14, 11/21, 11/28, 12/5.
TT meets Friday evenings (6pm-9pm) and Saturday/Sunday (9am-5:30pm) per the dates below:
Weekend 1: Sept 8, 9, 10
Weekend 2: Sept 22, 23, 24
Weekend 3: Oct 6, 7, 8
Weekend 4: Oct 20, 21, 22
Weekend 5: Nov 3, 4, 5
Weekend 6: Nov 17, 18, 19
Weekend 7: Dec 1, 2, 3
Graduation and closing ceremony will be held Saturday, Dec 9, from 9 – 4 pm
Free Teacher Training Information Session coming up – stay tuned for the next date! Questions? Email rootedheartyw.com
CURRICULUM
SKILLS
PRICING
PRICE INCLUDES...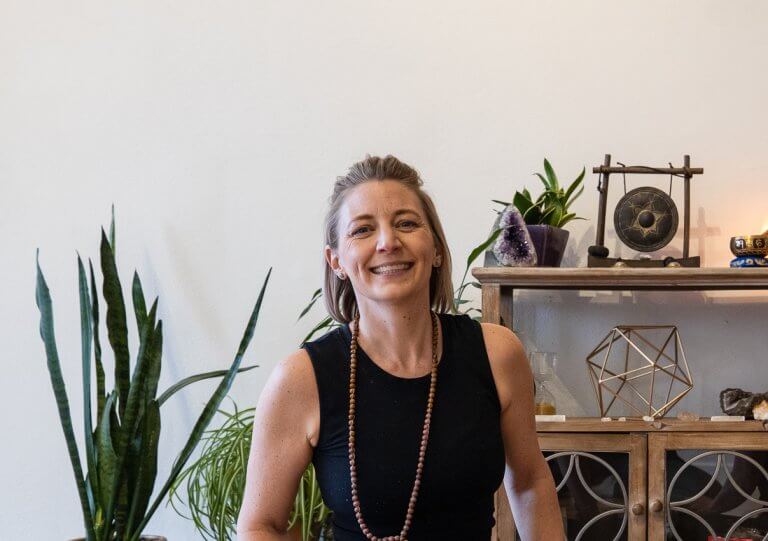 Shri K. Pattabhi Jois Ashtanga Yoga Institute
Brittany was introduced to yoga as a competitive and wild teen in 1999. The choice to buy a one way ticket to India and take a 200 hour teacher training altered her entire life path. Brittany completed her 200-hour teaching certificate in Ashtanga Vinyasa with Paul Dallaghan at Yoga Thailand in 2009. In addition to her certification, she completed a five-week study at the Shri K. Pattabhi Jois Ashtanga Yoga Institute, in Mysore India. While in India, she studied chanting, Sanskrit, pranayama, and the Yoga Sutras. She has spent the last twenty years studying a variety of yoga, pranayama, and meditation lineages. She credits the growth she has made to the wisdom of her teachers Adi Amar, Bhavani Maki, Rama Jyoti Vernon, and Sam Harris. Brittany teaches yoga to share the transformative practices and philosophies that shaped her life! She hopes to help you increase your awareness of how powerful the mind is, and how joyful and peaceful it can be to experience pure presence.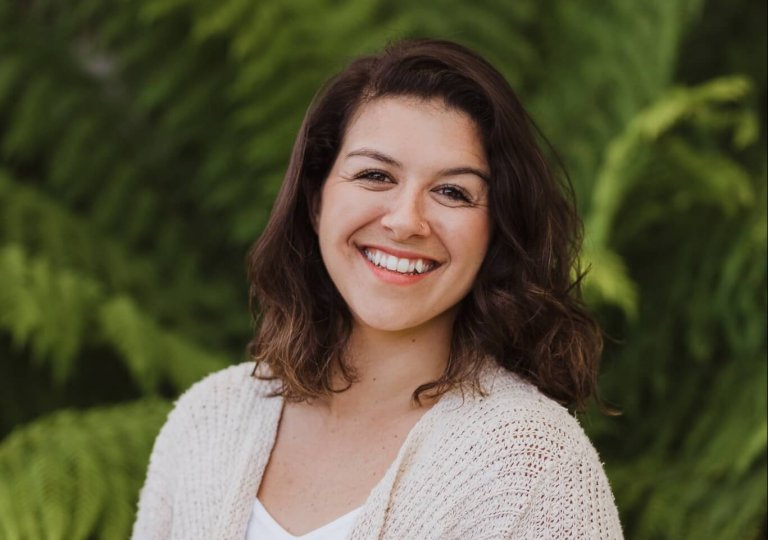 Brittany earned her 200hr Ashtanga Vinyasa certification with All Yoga, an organization based in Thailand. In her teaching, she provides a safe space to explore your unique expression, to grow strong and comfortable in your own skin. Yoga began for Brittany as a strong physical challenge and overtime, unfolded in to a new way of living and learning. She has also pursued 200 + hours in Yin Yoga with 5 Elements Wisdom Academy, and has obtained certificates/training in Yoga Nidra, Prenatal, Kids Yoga, Ganja Yoga and Mat Pilates.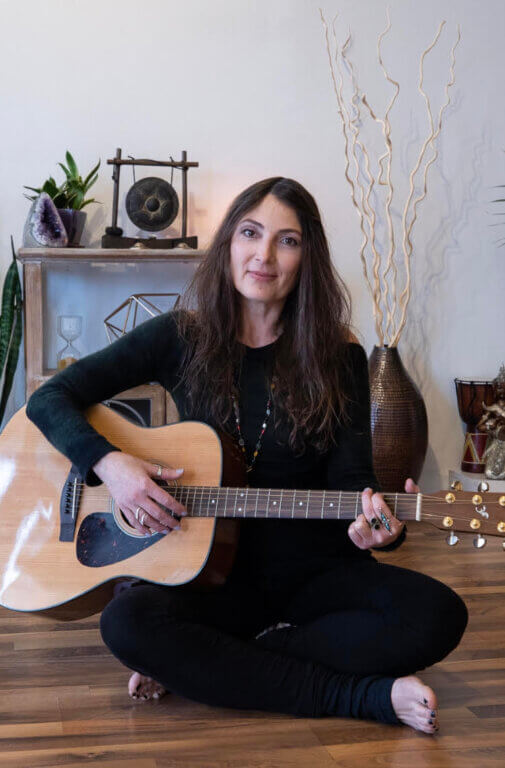 Siva Sai Mandir, Penukonda, India
Saraphina invites students to draw from a diverse interconnection of soul, form and sound, sharing yoga teacher trainings, Kirtan and Seva since 2007. Informed by meditation training at Shiva Sai Mandir in Penukonda, India 2008 to 2012, her classes are a spontaneous combination of ancient wisdom and modern variations. Enjoy a dive into breath, fluid movement and body awareness with integration and joy!
Zaidy Charron
Intro to Ayurveda
Annie Martens
Philosophy and Immersion
We are a small and community-based studio, focused on providing comprehensive and holistic training. We believe that a yoga teacher training should be a nourishing and life-changing experience, and that no matter where you're at on your life path, you can deeply benefit from an exploration of the ancient wisdom of yoga. Rooted focuses on the mind, body, and spirit, and the ways that we can heal ourselves and others. We will teach you how to deepen your personal practice, spread mindfulness into your everyday life, and confidently guide yoga classes.
With renowned and experienced teachers, the Rooted YTT gives an excellent foundational experience, based on the authentic yogic practices of yoga asana, pranayama, mantra, and meditation. Every morning we begin with 2.5 hours of practices that support spreading intelligence and ease throughout the body and mind. Smaller group sizes allow for more personal attention from instructors and potential for deep friendships.
Our training provides a rich education in the roots and eastern philosophies. The entire training is guided through the lens of Patanjali's Yoga Sutras, as these sutras offer us a roadmap to acceptance, love, and peace. We also practice mantras and teach lessons from the first text of yoga, the Vedas and Upanishads and have a master teacher guest teach several Ayurveda sessions.
The best things students say about our training is that it changes their relationship with themselves, and therefore, positively reflects on all of their relationships in life. Yoga is a journey to the heart and an opportunity to understand the power of the mind. We intend to support you and guide you to step forward into the most true version of you. If you are ready for a progressive transformation towards the health of your mind, body and spirit, you are ready for this training!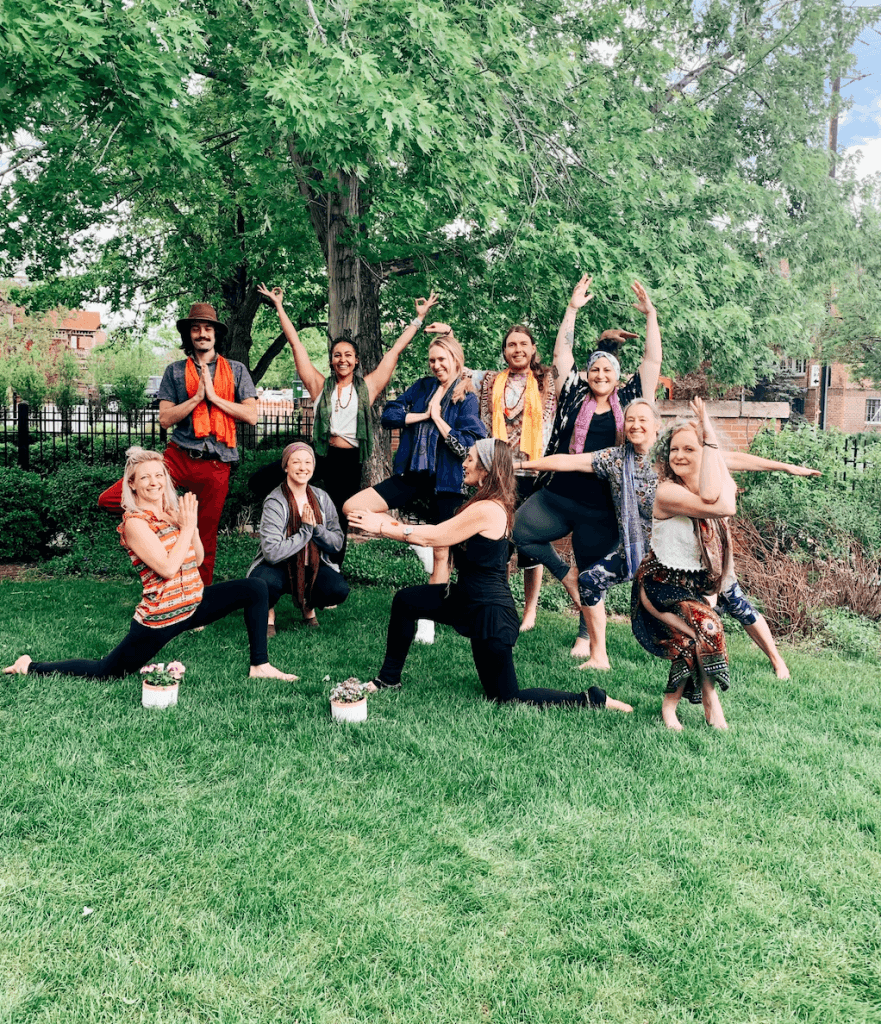 WHAT YOU WILL LEARN
Asana (postures) – Learn the basics of a safe and effective Vinyasa Yoga practice with in-depth study of asana. Hours every day will be dedicated to asana practice and asana lab where we break down the anatomical alignment, energetic actions, and modifications and variations in order to be able to better support all students.
Pranayama (breath work) – Study the science of breath and practice of ancient breathing techniques to strengthen your capability to focus, calm your mind, and increase your energy. These practices regulate the nervous system and endocrine system while also strengthening the respiratory system and the circulatory system.
Sadhana- Develop a daily home practice and a deeper connection to the power of ritual, self care, and daily reflection.
Meditation- Explore and practice mindfulness meditation, mantra meditation, visualizations, Patanjali's Sutras on stilling the mind, Yoga Nidra, and other practices to begin to see the mental patterns and rewire and strengthen your relationship with your mind.
Philosophy- Examine the yoga sutras in detail and learn to chant them. We cannot separate our yoga practices from the ancient texts of Patanjali's Yoga Sutra.
Chanting- Learn the power and practice of mantra and chanting.
Teaching Skills- Become a confident and empowering yoga teacher. Master how to cue, sequence, & theme classes that support all student levels and all student bodies
Subtle Body- Connect with the invisible energy that is within. We teach practices and offer theory that dive deep into the Koshas, Nadis, Chakras, Vayus, Merdians, and Grunthis.
Ayurveda- Learn how to connect with the rhythms of nature. Bring healthy living wisdom into your every day. ,
Got questions? Reach out!